Colin McPartland on Ideas for a Successful Open House
As the market cools off throughout the country, hosting an open house is becoming popular again. For the last two years in many areas, the average time on the market was so short that a seller and their listing agent didn't have an opportunity to host an open house. However, as the 2022 trends continue to show signs of a slowdown, having a well-planned out open house could help you stand out amongst the competition. Here are a few tips in order to set yourself up for success:
Getting Your Home "Showcase Ready"
Take a walk through prior to listing with your realtor and make notes of any repairs, deferred maintenance, and quick face lifts that will help catch a buyer's eye. Often times, over the course of years in the same living space, one can get content with their surroundings; items that you pass by on the daily unnoticed may be a red flag to a buyer walking through who is seeing the home as a newcomer. Be open to feedback from your realtor. It's not personal, it's part of their job to help you move your home. Small paint touch ups, mowing the lawn, planting some new flowers, fixing loose door hinges, etc. can go a long way!
Time to Declutter
Similar to the spruce ups on the home, cleaning out personal items and opening up the existing floor plan is important as well. Typically, the longer one is living in a home, the more possessions are acquired from memories being made, which is great while you're living there and enjoying your home, however, when it's time to sell, the more you can declutter the better. Remove personal items like family photos, let buyers vision the home as theirs. Make sure the areas where items tend to collect are put away; the more you can create open spaces, the better and bigger the home feels. And do some spring cleaning regardless of the time of year; vacuum carpets, mop floors, wash windows, clean bathrooms, the more you can do to prep, the better the impression the home will leave on the traffic passing through.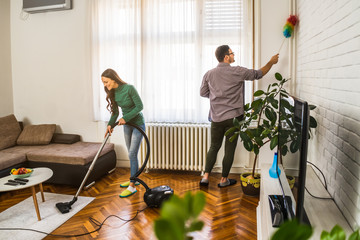 Spread the Word
Your realtor is going to do everything they can to promote the sale of your home, but that doesn't mean you can't play a role. Utilize social media to announce that your home is going on the market. Same goes for any clubs, community roles, networks you are part of, let them know as well. The more people that know, the better; maybe someone within those groups isn't in a position to purchase your home, but they may have a family member, friend, coworker, etc. that is in the market for a new home. Talk to your realtor about doing a "neighbor's open"; this is a great way to both get your neighbors in the home prior to hitting the market, and once you're active, less chance of them showing up during an open house so your realtor can focus on interacting with the actual buyers.
Trust Your Agent
You hired your agent for a reason, let them take control. Hopefully you've vetted several agents prior to deciding to list your home; this is your expert, your go to person to help you sell your home, so be open to their advice. Once the open house starts (or any showing for that matter), stay away from the home; don't be that lurker that's making people uncomfortable and not able to express their true feelings about the home to their partner or the realtor. And on that note, if you own pets, take them with you; pets often have a scent, and you don't want them to be put off by that. Also, even if you're a pet person, they may not be, best to snag them on your way out as you stay clear for the open house.
That's it. Hopefully this will help you prepare for your open house. Recap, you can do a lot to prep for the best results; often times, the more sweat equity you put into the home, the more you get out of the sale. Good luck!